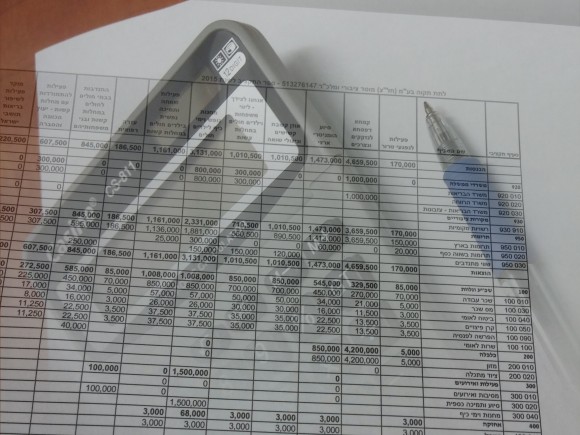 Transparency
At the end of each financial year Latet Tikva carefully examines itself to guarantee that we always do our very best for our children. We feel that it is important to report to our generous donors how much of the sum they donated was allocated directly to activities, and how much was spent on administrative expenses. As a public organization funded by civil society, we believe in full financial transparency and are committed to the principle of public reporting.
Latet Tikva is a registered with the Endowments Registrar as a public benefit company (PBC). It is recognized by the Tax Authority as a non-profit organization and public institution, and therefore it is exempt from income tax and VAT.
Good governance means, first and foremost, ensuring transparency, operating in accordance with norms and law, and preventing corruption. Good governance rules are the field of expertise of professionals, but we all understand some of the basic principles:
• Constant monitoring and control of incoming and outgoing funds. Auditing by a reliable and certified public accountant (CPA) who is involved in the management of funds and conducts accounting reviews and audits every year – these are essential foundations for proper and good governance.
• Board of Directors that convenes meetings and records protocols – the role of board members includes oversight, setting the course, programs and activities on the ground, as well as projects and allocation of funds.
• Good Governance Certificate – is issued by the Israeli Corporations Authority, Department of Associations and Endowments – the certificate is contingent on the submission of documents and tests, including financial statements, report, list of salaries of position holders, list of donations, audit and more.
Good Governance Certificate
At the end of each year, Latet Tikva's accountant collects all the financial data, and after checking and verifying it, generates a financial statement, and signs it, indicating that it is an audited statement (that was examined in-depth). No later than 6 months after the end of the year, this report is submitted for review by the Registrar of Corporations. The Registrar examines the report and forwards it to the Good Governance department for review. After the department inspects all the submitted documents, it issues a Good Governance Certificate.
Following are some of the monitoring rules that must be implemented to be awarded a Good Governance Certificate:
• Balanced and well thought out financial activities – non-accrual of deficits or surpluses
• Publication of the five highest salaries
• Providing grants, scholarships and subsidies based on reasonable and equitable criteria
• Publication of a list of donors of 20 thousand NIS and up
• Duty of loyalty, good faith in activities for the benefit of the organization
• Appointment of mandatory institutions – Board of Directors, Audit Committee, CPA, and more
We believe that succeeding in the important challenges we face requires trust, honesty, professionalism and transparency. It is only thus that we can initiate meaningful, broad and stable action, capable of providing maximum assistance and making a real difference.
To view our financial statements – click here.
To view our Good Governance Certificate – click here.
The audited 2014 statement will be uploaded to the website upon its submission and signing by the auditing CPA.